About Damian and His Elite Dance Company
Damian Kush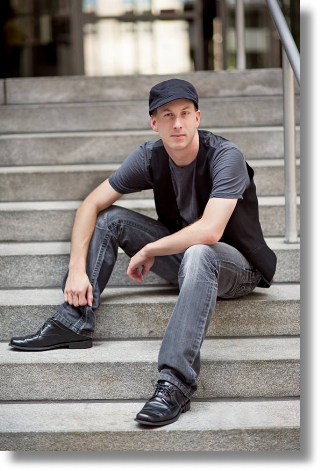 Damian Kush began his dance training at the age of 7 in Pittsburgh, Pennsylvania. At an early age Damian developed a passion for the art which led him to further his dance training and education. Throughout his childhood Damian performed with dance studios from the Pittsburgh area while involved in the competition dance circuit. He studied ballet, jazz, tap, acro / tumbling, and lyrical styles.
Damian's accolades included titles, overall awards, and scholarships at the regional and national level. Titles included Mr. Starpower, Mr. Showbiz, Mr. Headliner, Mr. Dance KAR, and Mr. StarQuest. Damian facilitated his training while attending programs at Pittsburgh Ballet Theater and Point Park University. Upon graduation from North Allegheny High School, Damian attended Duquesne University where he studied Business Administration on an academic scholarship. Damian had a desire to continue his love for the art of dance while at Duquesne. He continued to train at Point Park University and instructed/choreographed for local dance studios in the Pittsburgh area.
Through his experience teaching and choreographing, Damian knew his true passion was to pursue dance as a career. Damian made the decision to transfer into the Performing Arts Program at La Roche College his sophomore year under the direction of Gerard W. Holt a former Pittsburgh Ballet Theater Company member. Damian performed lead roles in various ballets while at La Roche to include; The Nutcracker, Swan Lake, Giselle, La Bayadere, and many others. He performed at the Byham Theater in Pittsburgh in "An Evening of Ballet".
Damian Forms the Elite Dance Company
While at La Roche, Damian began instructing / choreographing for the 42nd Street Studio. At the conclusion of his sophomore year the former director of 42nd Street decided to retire from the business and had presented Damian with the offer to take over the studio. In 2002, Damian renamed the studio Elite Dance by Damian and formed the Elite Dance Company. Damian completed his education at La Roche while directing the studio earning a B.A in Performing Arts with an emphasis in Classical Ballet and a Minor in Business Management. Damian received certification through Dance Educators of America earning honors in both ballet and jazz techniques.
Damian had a vision to establish a dance program that not only promoted technical excellence, but developed the aspect of performance and artistry for his students. He believes a strong ballet foundation is the basis for all dance forms. Through his continued education and focus on ballet technique, Damian has become one of the most versatile instructors / choreographers in Pittsburgh. Damian has made connections in the dance industry which have further enhanced the training and education for his students. Mia Michaels and Sonya Tayeh from SYTYCD have been guest instructors along with many other professionals in the industry at Elite Dance by Damian.
The Elite Company is nationally recognized and has been 4 time National Grand Champions. Elite Dance by Damian earned honors as one of the top 50 studios in the country under the Federation of Dance Competition's in 2012 which accomplishment was recognized at a Gala in Cancun that Damian attended. . Dance Spirit Magazine named Elite Dance by Damian as one of the Top 50 Studios in the Country. Damian has been awarded at the regional and national level for his unique choreography.
Many students from Elite have gone on to pursue professional careers in the dance industry as professional dancers, studio directors, and choreographers. Elite Dance by Damian is known as one of the top studios in Western Pennsylvania and continues to set the bar for excellence in the competition circuit. The accomplishments of the students in a true testament of a quality dance education that Damian has provided through his dedication and passion for the art of dance.